2016 Summer Davos Forum, in Tianjin, North China
Global

effort

needed

to

end

market

uncertainty

causedby

Brexit:

Li
By

Zhao

Huanxin

(chinadaily.com.cn)Updated: 2016-06-27 11:48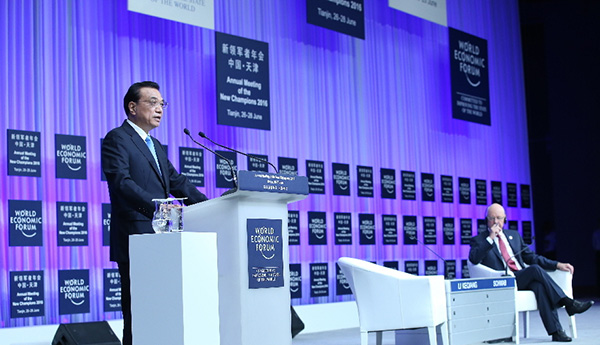 Premier Li Keqiang delivers a keynote speech at the opening of the annual Meeting of the NewChampions in Tianjin on June 27, 2016. [Photo / Xinhua]
The United Kingdom's exit from the European Union has increased uncertainties in the globalmarket, and the world needs to make concerted efforts to find a way out and push for therevitalization of the global economy, Chinese Premier Li Keqiang said at the opening of theAnnual Meeting of the New Champions in Tianjin on Monday morning.
Li said Europe is China's important partner, and Beijing will continue to maintain sound rapportswith Europe and the United Kingdom.
"We hope to see a unified and stable EU, as well as a stable and prosperous Britain," thepremier said.
He said that in a globalized world, all economies are highly interdependent, and therefore theyneed to join hands and forge ahead together.
The Annual Meeting of the New Champions 2016, also known as the Summer Davos Forum,held between June 26 and 28, carries the theme "the fourth industrial revolution and itstransformational impact."
Around 1,700 politicians, entrepreneurs, scholars, and media representatives from over 90countries attended the event.
Premier Li calls for reform to revive world economy
Chinese Premier Li Keqiang made proposals on promoting the stable recovery of the worldeconomy at the annual meeting, saying it is imperative to actively carry out structural reform andspeed up economic transformation and upgrading.
He called for strengthened efforts in demand management and structural reform to eliminate theroot causes of deep-seated problems in the world economy.
Efforts should be made to advancefiscal and financial reform, relax regulatory restrictions,promote competition, and support innovation to promote the robust, sustainable and balanceddevelopment of the world economy, he said.
"For the world economy to walk out of its woes, the ultimate solution lies in transforming thegrowth pattern and replacing old drivers with new drivers,"Li added, urging all countries to seizethe opportunities provided by the new industrial,scientific and technological revolution.
"The stable recovery of the world economy cannot be achieved without efficient and orderlyglobal governance," he said.
Various countries must adopt growth-friendly policies, strengthen macro-policy coordination,advance trade and investment liberalization and facilitation and work together to build a fairer,more just and open international economic system, he said.
New driving force bringing momentum to economy: Premier
It is pleasant to see that China's new driving forces are showing a rapid growth trend and playinga bigger role in guaranteeing employment, increasing income and advancing upgrading, said Liat the opening of the meeting.
As China enters 'new normal' after years of speedy growth and faces downward pressure, Chinaadopted innovative macro-control policy and vigorously promote structural reform, focus oncultivating new driving face as well as transforming and upgrading traditional ones. Li said thatChina has maintained steady economic growth and has gained positive progress in structuralreadjustment.
"Giving some time, new driving force will bring new momentum to China's economy," Li said.
Li added that China has witnessed the development in reform and innovation as well asadjustment and transformation in the first six months this year.
"Innovation ideas that we initiated (also) contain the theory and spirit of sharing," said Premier.
According to him, a sharing economy is also an economy that contributes to mass innovation. Itis available for every individual to participate in and benefit from, and helps generate a properpattern for income and its distribution.
Li said that the sharing economy provided equitable competition opportunities for everyone,while also boosting the medium-income group and letting individuals reach their full potential topursue the value of life.
"The further development of globalization and the popularization of the internet have presentedHits: 【Print】